White-backed Black-Tit
Melaniparus leuconotus
Jason Anderson
Version: 2.0 — Published September 17, 2020
Welcome to Birds of the World!
You are currently viewing one of the free accounts available in our complimentary tour of Birds of the World. In this courtesy review, you can access all the life history articles and the multimedia galleries associated with this account.
For complete access to all accounts, a subscription is required.
Already a subscriber? Sign in
The White-backed Black-Tit is a fairly small (13.5 cm), distinctively marked member of the Tit family (Paridae), endemic to a variety of forest and wooded habitat types in the Afrotropical Highlands biome of Ethiopia and Eritrea (the Abyssinian Highlands). Its generally low population density across its range means that it is a poorly known species, with little known about its breeding behavior, its social habits, its diet, and its movements; at the time of writing (2020), no nest sites have been documented. It is most common between 1,800m and 3,200 m in Juniperus, Hagenia, and Arundinaria (highland bamboo) woodland, but also occurs in Olea, Hypericum, and Euphorbia, as well as mixed scrubland in rocky valleys, where it is often found close to water, and can be observed in wooded gardens in Addis Ababa (1 Spottiswoode, C., M. N. Gabremichael, and J. Francis (2010). Where to watch birds in Ethiopia. Christopher Helm, London ).
Easy to identify, but difficult to separate sexes or subadults, all birds have mainly black plumage and bare parts, with a distinctive off-white to cream patch covering the mantle, and usually also the nape of the neck, a feature rarely depicted in field guides or illustrations. A number of individuals can also show white tips to undertail coverts, tertials, and white fringes on secondaries.
Like almost all Parids, the White-backed Black-Tit is a sociable bird, usually occurring in pairs or small family parties. It frequently forages on trunks, branches, and twigs, often acrobatically searching for invertebrates among lichens and mosses in its preferred habitats. It is usually vocal, and exhibits an impressive range of calls and song motifs, some of which are reminiscent of sparrow (Passer) or even bulbul (Pycnonotus) species, although other calls reveal its closer affinities to other tits.
Recent phylogenetic analysis indicates its two closest relatives are Gray Tit (M. afer) and Ashy Tit (M. cinerascens; 2 Johansson, U. S., J. Ekman, R. C. K. Bowie, P. Halvarsson, J. I. Ohlson, T. D. Price and P. G. P. Ericson. (2013). A complete multilocus species phylogeny of the tits and chickadees (Aves: Paridae). Molecular Phylogenetics and Evolution 69 (3):852-860. ), both of which live in southern Africa, and have predominantly gray plumage.
The species was rediscovered in Eritrea in 2008 by JA after a period of over 50 years. This rediscovery also included the first description of a recently fledged juvenile (3 Anderson, J., and D. Berhane (2011). Recent observations of Abyssinian endemic bird species in Eritrea. Bulletin of the African Bird Club 18(1):31–39. ), one of four records of the bird over a 2-year period from a small area of remote highlands in the vicinity of Adi Keyh, in the far south of the country. As far as is known, its population trends are stable; evidence from as far back as 1870 (4 Blanford, W. T. (1870). Observations on the Geology and Zoology of Abyssinia, Made During the Progress of the British Expedition to that Country in 1867-68. MacMillan, London. ) indicates it has been uncommon within its range ever since its description in 1843 (5 Guérin-Méneville, F. E. (1843). Oiseaux nouveaux d'Abyssinie. Revue Zoologique 6: 161-162. ).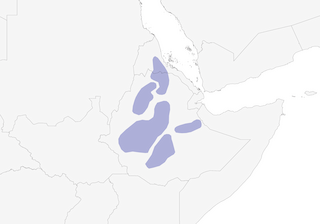 eBird and Macaulay Library
Recommended Citation
Anderson, J. (2020).
White-backed Black-Tit
(
Melaniparus leuconotus
), version 2.0. In Birds of the World (S. M. Billerman and B. K. Keeney, Editors). Cornell Lab of Ornithology, Ithaca, NY, USA.
https://doi.org/10.2173/bow.whbblt1.02