SPECIES
White-tailed Iora
Aegithina nigrolutea
Prasad Ganpule
Version: 2.0 — Published October 22, 2020
Distribution
Welcome to Birds of the World!
You are currently viewing one of the free accounts available in our complimentary tour of Birds of the World. In this courtesy review, you can access all the life history articles and the multimedia galleries associated with this account.
For complete access to all accounts, a subscription is required.
Already a subscriber? Sign in
Endemic to the Indian Subcontinent, White-tailed Iora is resident in India and Sri Lanka. Its range in India is as follows: in northern and western India from Gujarat (Kachchh, Saurashtra, and northern Gujarat) to parts of Rajasthan, Haryana, Punjab, northern Madhya Pradesh, northern Uttar Pradesh, and Delhi. In eastern India, occurs sporadically in parts of Jharkhand, Bihar, and Odisha. In southern and southeastern India, occurs in Andhra Pradesh, north-central and southern Tamil Nadu and southern Karnataka. In Sri Lanka, occupies dry lowlands from east to south of the country.
Historical Changes to the Distribution
Specimens of White-tailed Iora were obtained from eastern India, namely Jharkhand, Bihar, and Odisha. It was also stated that this species may be found parts of eastern Bengal (23 Ali, S. (1945). The Birds of Kutch. Oxford University Press, Bombay. ). However, no specimens from this region can be traced in various museum collections. Additionally, at present, there have been no documented reports (photographs) of this species from Bihar or eastern Bengal. Its current status in Odisha and Jharkhand is not known and no sightings have been reported from these areas.
Its present distribution in India is disjunct and there are two populations; in northern and western India and southern India. Due to lack of information regarding its presence in eastern India, it is difficult to ascertain if it is now absent there, or if it could be present but overlooked. Earlier, its occurrence in Sri Lanka was not known and it is only recently that it was added to the avifauna of the country (6 Wells, D. R., E. C. Dickinson, and R. W. R. J. Dekker (2003). Systematic notes on Asian birds. 34. A preliminary review of the Aegithinidae. Zoologische Verhandelingen 344:7-15 ).
It was also reported to possibly occur in Pakistan (North-West Frontier and Sindh; 3 Ali, S., and S. D. Ripley (1996). Handbook of the Birds of India and Pakistan, together with those of Bangladesh, Nepal, Bhutan and Sri Lanka. Vol. 6. 2nd edition. Oxford University Press, Delhi. , 23 Ali, S. (1945). The Birds of Kutch. Oxford University Press, Bombay. ). However, no specimens are known from Pakistan and this species was not included in the birds of Pakistan (24 Roberts, T. J. (1992). The birds of Pakistan, Vol. 2: Passeriformes. New York: Oxford Univ. Press. ); its range was revised from "Lowlands of northern Pakistan and northwestern India" to "northwestern and southern India, and Sri Lanka", thus excluding Pakistan in '2016 UPDATES and CORRECTIONS,' to accompany the eBird/Clements Checklist v2016 spreadsheet.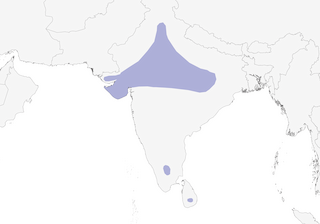 Recommended Citation
Ganpule, P. (2020).
White-tailed Iora
(
Aegithina nigrolutea
), version 2.0. In Birds of the World (S. M. Billerman and B. K. Keeney, Editors). Cornell Lab of Ornithology, Ithaca, NY, USA.
https://doi.org/10.2173/bow.whtior1.02