White-tailed Iora
Aegithina nigrolutea
Prasad Ganpule
Version: 2.0 — Published October 22, 2020
Welcome to Birds of the World!
You are currently viewing one of the free accounts available in our complimentary tour of Birds of the World. In this courtesy review, you can access all the life history articles and the multimedia galleries associated with this account.
For complete access to all accounts, a subscription is required.
Already a subscriber? Sign in
The White-tailed Iora (also known as Marshall's Iora) is endemic to the Indian Subcontinent, where it prefers lowland thorn scrub and tree groves. It is closely related to Common Iora (Aegithina tiphia), and the two were previously considered conspecific. A resident species, it is patchily distributed in Peninsular India and Sri Lanka, where it is often easily detected by its wide variety of songs and calls, which are used frequently while feeding. It has a spectacular courtship display, in which the male flies up in the air with fluffed up plumage and 'parachutes' or glides down spirally exposing its whitish rump feathers, all the while looking like a ball of fluff.
It is not a well-studied species, and it is suspected to be under pressure owing to destruction of its habitat, especially due to cutting down of scrub forests. Its breeding biology is also poorly known. Although it is treated as monotypic, further taxonomic research is required for populations resident in South India and Sri Lanka.
Further research is required for almost all aspects of the species' natural history, and many of the observations given here are based on personal experience while studying the White-tailed Iora over more than ten years in Gujarat in western India.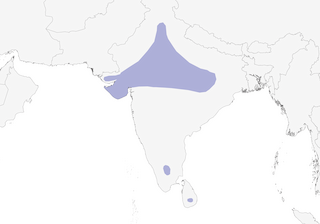 eBird and Macaulay Library
Recommended Citation
Ganpule, P. (2020).
White-tailed Iora
(
Aegithina nigrolutea
), version 2.0. In Birds of the World (S. M. Billerman and B. K. Keeney, Editors). Cornell Lab of Ornithology, Ithaca, NY, USA.
https://doi.org/10.2173/bow.whtior1.02