SPECIES
Yellow-billed Babbler
Turdoides affinis
Kulbushansingh Suryawanshi
Version: 2.0 — Published September 17, 2020
Distribution
Welcome to Birds of the World!
You are currently viewing one of the free accounts available in our complimentary tour of Birds of the World. In this courtesy review, you can access all the life history articles and the multimedia galleries associated with this account.
For complete access to all accounts, a subscription is required.
Already a subscriber? Sign in
Yellow-billed Babbler is endemic to southern India and Sri Lanka. Along the east coast of Peninsular India, they occur as far north as Puri in Orissa. In the states of Andra Pradesh and Telangana, the Godavari and Penganga Rivers form the northern limit of their range (16 Ali, S., and S. D. Ripley (1996). Handbook of the Birds of India and Pakistan, together with those of Bangladesh, Nepal, Bhutan and Sri Lanka. Vol. 6. 2nd edition. Oxford University Press, Delhi. ). Kolhapur district in Maharashtra and Belgaum district in Karnataka seem to be the northern limits of their range along the Western Ghats. They are relatively uncommon above 1,000 m in the Western Ghats, except along roads, villages, and plantations where they can be seen at even higher elevations. Karwar is the northern range limit along the west coast of India. Stray records are documented from the states of Chattisgarh and Madhya Pradesh. They are common and widespread across the southern Indian States of Andra Pradesh, Telangana, Karnataka, Kerala and Tamil Nadu.
They are found commonly and are widespread all across Sri Lanka.
Historical Changes to the Distribution
Little historical information exists. Extralimital records from Chattisgarh, Madhya Pradesh, and northern parts of Orissa are increasing ever since early 2000s. However, it is not clear if the distributional range of this species is expanding in these areas. These also happen to be relatively poorly birded areas, and more surveys are needed to understand the context of these records.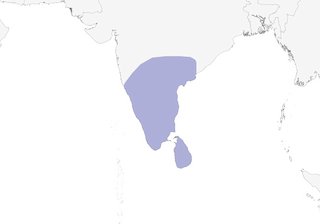 Recommended Citation
Suryawanshi, K. (2020).
Yellow-billed Babbler
(
Turdoides affinis
), version 2.0. In Birds of the World (S. M. Billerman and B. K. Keeney, Editors). Cornell Lab of Ornithology, Ithaca, NY, USA.
https://doi.org/10.2173/bow.yebbab1.02