Yellow Warbler
Setophaga petechia
Peter E. Lowther, Claudio Celada, Nedra K. Klein, Christopher C. Rimmer, and David A. Spector
Version: 1.0 — Published March 4, 2020
Text last updated January 1, 1999
Welcome to Birds of the World!
You are currently viewing one of the free accounts available in our complimentary tour of Birds of the World. In this courtesy review, you can access all the life history articles and the multimedia galleries associated with this account.
For complete access to all accounts, a subscription is required.
Already a subscriber? Sign in
A splash of yellow in a patch of willow. Aptly named, the Yellow Warbler is found throughout much of North America in habitats briefly categorized as wet, deciduous thickets. One common feature of Yellow Warbler habitat is the presence of various species of willows (Salix spp.), which dominate regions with high densities of Yellow Warblers, as in southern Canada, and regions where the species is sparse and local in distribution, as in the southwestern U.S. For populations of Yellow Warblers south of U.S. borders, mangroves are a dominant feature of their habitat.
The Yellow Warbler is the most strikingly yellow of New World warblers. Yellow Warblers also have variable amounts of chestnut streaking on the breast, and southern forms have variable amounts of chestnut on the head. The streaking is usually more prominent in adult males and less so in females and immatures.
There is extensive morphological variation within this species, more so than within any other wood-warbler. Traditionally, the various subspecies of Yellow Warbler have been arranged into 3 groups, mainly based on the color of the head in adult males, and have been recognized in the past as distinct species (see Browning 1994 Browning, M. R. (1994). A taxonomic review of Dendroica petechia (Yellow Warbler; Aves: Parulinae). Proceedings of the Biological Society of Washington 107:27-51. ), even though these groups may not reflect underlying evolutionary relationships: Yellow Warbler (aestiva group)—yellow-headed, migratory forms breeding in North America; Golden Warbler (petechia group)—largely chestnut-capped, resident forms in the West Indies; and Mangrove Warbler (erithachorides group)—chestnut-hooded, resident forms of coastal Middle and northern South America. Unless otherwise indicated, this account emphasizes the biology of the aestiva group, referred to simply as Yellow Warbler; Golden Warbler and Mangrove Warbler will identify separately those nonmigratory groups.
Abundant and widespread, having the broadest distribution of any Setophaga warbler, the Yellow Warbler has been a frequent subject of study. Research in southern Manitoba by Spencer G. Sealy and his students has examined the ecology and breeding biology of this species (e.g., Bierman and Sealy 1982 Bierman, G. C. and S. G. Sealy. (1982). Parental feeding of nestling Yellow Warblers in relation to brood size and prey availability. Auk 99:332-341. , Goossen and Sealy 1982 Goossen, J. P. and S. G. Sealy. (1982). Production of young in a dense nesting population of Yellow Warblers, Dendroica petechia, in Manitoba. Canadian Field-Naturalist 96:189-199. , Hobson and Sealy 1989c Hobson, K. A. and S. G. Sealy. (1989c). Mate guarding in the Yellow Warbler Dendroica petechia. Ornis Scandinavica 20:241-249. , Hébert and Sealy 1993a Hébert, P. N. and S. G. Sealy. (1993a). Egg-size variation in Yellow Warblers: Apportionment of parental investment and the brood-survival hypothesis. Canadian Journal of Zoology 71:1008-1011. ) as well as interactions between Yellow Warblers and Brown-headed Cowbird (e.g., Briskie et al. 1990 Briskie, J. V., S. G. Sealy and K. A. Hobson. (1990). Differential parasitism of Least Flycatchers and Yellow Warblers by the Brown-headed Cowbird. Behavioral Ecology and Sociobiology 27:403-410. , Sealy 1992 Sealy, S. G. (1992). Removal of Yellow Warbler eggs in association with cowbird parasitism. Condor 94:40-54. , Sealy 1995 Sealy, S. G. (1995). Burial of cowbird eggs by parasitized Yellow Warblers: An empirical and experimental study. Animal Behaviour 49:877-889. , Gill and Sealy 1996 Gill, S. A. and S. G. Sealy. (1996). Nest defence by Yellow Warblers: Recognition of a brood parasite and a nest predator. Behaviour 133:263-282. , Gill et al. 1997 Gill, S. A., P. M. Grieef, L. M. Staib and S. G. Sealy. (1997). Does nest defence deter or facilitate cowbird parasitism? A test of the nesting-cue hypothesis. Ethology 103:56-71. , McMaster and Sealy 1998 McMaster, D. G. and S. G. Sealy. (1998). Short incubation periods of Brown-headed Cowbirds: How do cowbird eggs hatch before Yellow Warbler eggs? Condor 100:102-111. ). Further study in Ontario has examined warbler-cowbird interactions (Clark and Robertson 1981 Clark, K. L. and R. J. Robertson. (1981). Cowbird parasitism and evolution of anti-predator strategies in the Yellow Warbler. Wilson Bulletin 93:249-258. , Burgham and Picman 1989 Burgham, M. C. J. and J. Picman. (1989). Effect of Brown-headed Cowbirds on the evolution of Yellow Warbler anti-parasite strategies. Animal Behaviour 38:298-308. , Scott and Lemon 1996 Scott, D. M., and R. E. Lemon (1996). Differential reproductive success of Brown-headed Cowbirds with Northern Cardinal and three other hosts. Condor 98:259-271. ) and relationships between reproductive success, paternal care, and male plumage (Studd and Robertson 1985a Studd, M. V. and R. J. Robertson. (1985a). Evidence for reliable badges of status in territorial Yellow Warblers (Dendroica petechia). Animal Behaviour 33:1102-1113. , Studd and Robertson 1987 Studd, M. V. and R. J. Robertson. (1987). Influence of age and territory quality on the reproductive behaviour of male Yellow Warblers. Canadian Journal of Zoology 67:268-273. , Studd and Robertson 1988 Studd, M. V. and R. J. Robertson. (1988). Differential allocation of reproductive effort to territorial establishment and maintenance by male Yellow Warblers (Dendroica petechia). Behavioral Ecology and Sociobiology 23:199-210. , Lozano and Lemon 1996 Lozano, G. A. and R. E. Lemon. (1996). Male plumage, paternal care and reproductive success in Yellow Warblers, Dendroica petechia. Animal Behaviour 51:265-272. ).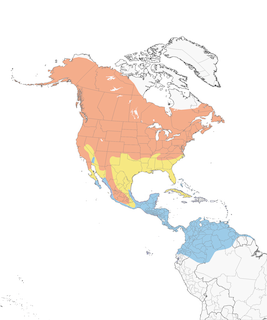 eBird and Macaulay Library
Recommended Citation
Lowther, P. E., C. Celada, N. K. Klein, C. C. Rimmer, and D. A. Spector (2020).
Yellow Warbler
(
Setophaga petechia
), version 1.0. In Birds of the World (A. F. Poole and F. B. Gill, Editors). Cornell Lab of Ornithology, Ithaca, NY, USA.
https://doi.org/10.2173/bow.yelwar.01