Luis F. Baptista, Pepper W. Trail, H. M. Horblit, Peter F. D. Boesman, Guy M. Kirwan, and Ernest Garcia
Version: 1.0 — Published March 4, 2020
Text last updated November 15, 2018
Welcome to Birds of the World!
You are currently viewing one of the free accounts available in our complimentary tour of Birds of the World. In this courtesy review, you can access all the life history articles and the multimedia galleries associated with this account.
For complete access to all accounts, a subscription is required.
Already a subscriber? Sign in
Editor's Note: This is a shorter format account, originally published in HBW Alive. Please consider contributing your expertise to update and expand this account.
The Zenaida Dove is a brown dove of open woodland and clearings in the Caribbean region. It occurs on all major islands and most smaller cayes, as well as along the northern coast of the Yucatan Peninsula. It is medium-sized and brown overall, with a purple gloss on the neck sides and black spots on the secondaries, rectrices, and below the ear coverts. It resembles the partly-sympatric Mourning (Zenaida macroura) and Eared (Zenaida auriculata) doves, but has a distinctive terminal white band on the outer secondaries, which is visible both when the wing is folded and when the wing is open. Its low-pitched, level cooing can be heard primarily at dawn. Zenaida Doves feed both in trees and on the ground for fruits and seeds and obtains salt from natural or artificial sources. The nest is placed in a tree or shrub or, where predators are few, in a rock crevice or directly on the ground.
28–30·5 cm; male 110–194 g (1 Jiménez, A., I. García-Lau, A. González, L. Mugica, and M. Acosta (2014). Valores de masa corporal de 183 especies de aves cubanas. Revista Cubana de Ciencias Biológicas 3(1):22–42. ), female 95–180 g (1 Jiménez, A., I. García-Lau, A. González, L. Mugica, and M. Acosta (2014). Valores de masa corporal de 183 especies de aves cubanas. Revista Cubana de Ciencias Biológicas 3(1):22–42. ). Forehead , sides of neck and head cinnamon-coloured, a little paler and more buffy on the chin, and darker crown; occiput nape and hindneck brownish grey; metallic purple gloss on lateral and lower portions of hindneck; back, scapulars, secondaries and median portion of rump reddish brown; chest and underparts lighter buff-brown; distal wing-coverts, alula, primary coverts and sides of rump grey; large rounded black spots on proximal secondaries and larger wing-coverts; outer secondaries dusky edged with grey which merges into white; dark ­violet-blue streaks above and below ear-­coverts: these streaks appear black from a distance; central tail feathers reddish brown, lateral rectrices grey with rufous outer webs; outermost pair grey with rufous outer web and white terminal band; black subterminal tail bar; bill black; feet and legs red; iris dark brown to brownish black. Female paler with back less reddish. Juvenile resembles female but lacks iridescent patches on neck and has buff fringes to all back and wings feathers. Race zenaida darker, with terminal band on outermost pair of rectrices bluish grey rather than white, and no white margins to wing spots; salvadorii is greyish or olive brown on back and only slightly tinged red, forehead and crown greyish mauve, tips of outer tail feathers greyish white.
Editor's Note: This article requires further editing work to merge existing content into the appropriate Subspecies sections. Please bear with us while this update takes place.

Differs from congeners in having 12 (not 14) rectrices, but unquestionably belongs in this genus. Compared with Z. macroura, present species has shorter and much less graduated tail, proportionately larger legs and feet; very similar song, but with introductory note less frequency-modulated. Race salvadorii formerly listed as yucatanensis, but merging of genera Zenaida and Zenaidura made that name unavailable for this taxon. Three subspecies recognized.
---
SUBSPECIES
coast of N Yucatán Peninsula and islands of Holbox, Cozumel and Mujeres.
---
SUBSPECIES
Bahamas, Cuba and I of Pines, Cayman Is (Grand, Little, Brac) and Jamaica through Hispaniola and Puerto Rico to Virgin Is; formerly Florida Keys.
---
SUBSPECIES
Lesser Antilles from Anguilla (N Leeward Is) to Grenada.
Editor's Note: Additional distribution information for this taxon can be found in the 'Subspecies' article above. In the future we will develop a range-wide distribution article.
Usually in lowlands, inhabiting open woodland, forest edge and clearings, as well as cultivated fields, second-growth forest, bushy and scrubby areas, and mangroves. Arboreal in part, nesting and roosting, and taking fruits and seeds; but courts, and gleans much of its food, on the ground. In Jamaica, frequents cultivated areas up to 1500 m.
Generally sedentary. Only present irregularly on Cozumel I, mainly Oct–Dec, where status unclear; vagrant to Alacrán Reef (off N Yucatán) and extremely rare visitor to Florida Keys (eight records since 1950s, mainly late Sept to early Mar, but also May and Jun) (2 Howell, S. N. G., I. Lewington, and W. Russell (2014). Rare Birds of North America. Princeton University Press, Princeton, NJ, USA & Oxford, UK. ). One found on the Azores in April 2017 is thought likely to have been ship-assisted (3 Lawicki, L. and van den Berg, A.B. (2017). WP Reports Dutch Birding. 39: 260. ).
Recorded feeding on fruits and seeds of 77 food species in Puerto Rico, of which most important plant species were Scleria lithosperma, Argemone mexicana, Croton rigidus, Cassia occidentalis, Cordia angustifolia, Euphorbia heterophylla and several legume species; some took earthworms, ants and flies. Animal matter comprised only 4·2% of crop contents in 1 study. Also eats salt from deposit-rich soils or livestock mineral blocks; because seed and fruit are low in sodium, ingested salt may meet the needs of egg formation or the production of pigeon milk. Usually solitary, but may form flocks in autumn and may aggregate in food concentrations.
Sounds and Vocal Behavior
Song similar to Z. macroura, a mournful cooing "whoo'oOO...hu...hu...hu" but slightly higher-pitched and with a more rhythmic cadence.
Season Mar–Dec in Dominica, May–Aug in Virgin Is; in moist lower montane zone of Puerto Rico , nests throughout year with peak Feb–May (Apr–May in one study), but in SW part of the island (Guánica and Susua forests) peaks in Mar–Jun and Oct–Jan. Nest placed in tree or shrub: in Puerto Rico, 20 tree species recorded, with mango (Mangifera indica), royal palm (Roystonea borinquena), cactus (Cephalocereus royenii), and tall abizia (Abizia procera) most commonly used; in Dominica, the most often used tree was Haematoxylum campechianum; some nests placed in bromeliads at woodland sites. On islands with few or no predators, nests placed on ground: on Culebra I, nests on boulders 10 m from sea, and land crabs sometimes take heavy toll; on Little Saba Cay (Virgin Is), species uses tunnel-like excavations under matted grass; on Mona I (between Puerto Rico and Hispaniola), nests built on grassy vegetation and in rocky crevices. Usually two eggs (1–3); incubation 13–15 days; fledging also 13–15 days. One female bred at 11 months old, and one male performed aerial displays when ten months old. Three pairs recorded producing up to four broods each in a year.
Not globally threatened. Fairly common to common along N coast of Yucatán Peninsula, but rare to uncommon visitor to Cozumel I; also reported from Belize, but this report is now considered unlikely. Status throughout West Indies not well documented, but species has benefited from some prevailing agricultural practices, and has invaded many areas where original vegetation has been cleared; also occurs in some cities, e.g. Bridgetown (Barbados). Species is much appreciated as a game bird, and suffers intense hunting pressure. Race <em>zenaida</em> formerly bred on Florida Keys until early 1800s, but now only an extremely rare visitor (see Movements).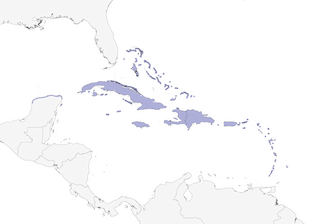 eBird and Macaulay Library
Recommended Citation
Baptista, L. F., P. W. Trail, H. M. Horblit, P. F. D. Boesman, G. M. Kirwan, and E. F. J. Garcia (2020).
Zenaida Dove
(
Zenaida aurita
), version 1.0. In Birds of the World (J. del Hoyo, A. Elliott, J. Sargatal, D. A. Christie, and E. de Juana, Editors). Cornell Lab of Ornithology, Ithaca, NY, USA.
https://doi.org/10.2173/bow.zendov.01