Requesting maps and media
Media files include maps, photographs, scientific illustrations (cover plates), figures, audio and video files.
It is illegal to use Birds of the World content without the copyright owner's consent. Birds of the World is amassed from different sources, so understanding who owns the content you are seeking to borrow is the first step. If you have verified who owns the content and received written permission for usage, then please follow guidelines for properly citing the media. If you have a research project that requires specific datasets please reach out to us.
It is expressly illegal to use download anything from Birds of the World (including text, media, maps, and scientific bird illustrations) in bulk, using electronic or other means for any reason whatsoever. Our site is monitored for such downloading activity and violators accounts will be cancelled immediately and the case will be referred to Cornell University counsel for an intellectual property right investigation.
Color Plates/Scientific Bird Illustrations
Cornell Lab of Ornithology owns the digital rights to the images you see in Birds of the World. At this time, we cannot fulfill usage requests from the public.
The print rights are owned by Lynx Edicions; all print queries should be directed to: lynx@lynxeds.com.
Maps
Currently, Birds of the World sources range maps from eBird, BirdLife International, and NatureServe/Robert Ridgely. We refer you to the new eBird Status and Trends pages to see if there is a seasonal abundance range map for your species of interest. Those maps can be downloaded for single, nonprofit use, as is, at no charge. Please follow usage and citation conditions on that page. However, should you wish to modify the maps or use them in a for-profit publication, please contact help@ebird.org for a licensing contract.
Maps credited to Robert Ridgely/NatureServe are not available through Birds of the World.
Maps labeled Lynx Edicions/BirdLife International were first published in the HBW and BirdLife International Illustrated Checklist of the Birds of the World and the copyright is held by BirdLife International. Thus, please inquire with BirdLife at http://datazone.birdlife.org/species/requestdis.  BirdLife maps are the source of record for world bird distributions, they have several map types that might suit your purposes.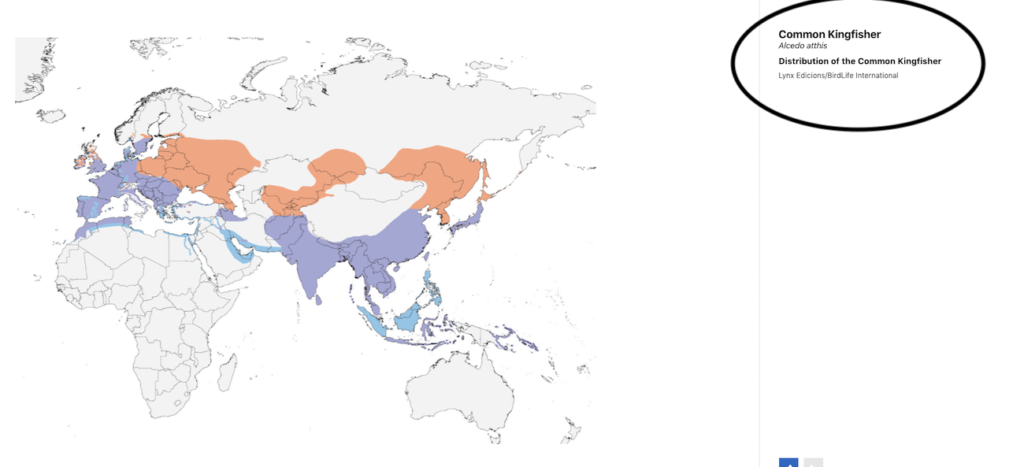 Photo, Videos, Audio Recordings
If you wish to use a photo, video or audio recording for any purpose, first verify from what source the audio and/or video content is derived.  Most, but not all, of our photo, audio and video content comes directly from the Cornell Lab of Ornithology's Macaulay Library.  If the data for the photo, audio or video file shows that the content is from Macaulay Library, then contact the Macaulay Library directly. They can be reached at 607-254-2456 or by emailing: macaulaylibrary@cornell.edu.
Want to embed Macaulay Library media on a blog or website?
It's easy to embed Macaulay Library media on websites or other pages on the internet. The appropriate data and credit will automatically display along with the image, sound, or video. Simply go to the Macaulay Library page of the piece of media you are interested in and click "Embed." From the embed menu, choose your preferred size, then click "Copy" to copy the HTML code for use on your page.