Common name display preferences
You can choose which language you want Common Names in BOW to appear and you can change this language in the BOW/eBird preferences. Bird names in eBird are based on the eBird/Clements taxonomy, which is maintained in English. eBird supports 90 languages and customized versions of common bird names so you can always use the bird names you prefer. The default Common Names in eBird appear under eBird Preferences as "English (United States)". If you prefer to use English (US) but spell "grey" instead of "gray", English (Malaysian) allows that.
The last update to this list and these names occurred on 2021 October. At that time, there were 53 languages supported, as well as 38 regional versions of English, Spanish, French, and Portuguese, for a total of 90 regional sets of bird names. Recent additions include Arabic, Asturian, Catalan, Azerbaijani, Gallegan, Slovak, plus two regional versions of Spanish (for Peru and Paraguay). As of 2020 August, we also had complete global namesets for German, Turkish, Slovak, Spanish, French, Japanese, and Norwegian.
While the body of each Birds of the World species profile will remain in English, this feature displays your preferred common name in the big hero image at the top of each profile and allows you to search by this common name in the search bar and in the Taxonomy Explorer.
Learn more about these common name datasets and search for your preference here:
Follow the instructions below to set your common name preference:
Click the icon in upper part of screen and select Preferences.

Then toggle to your preferred language and click SAVE at bottom of page.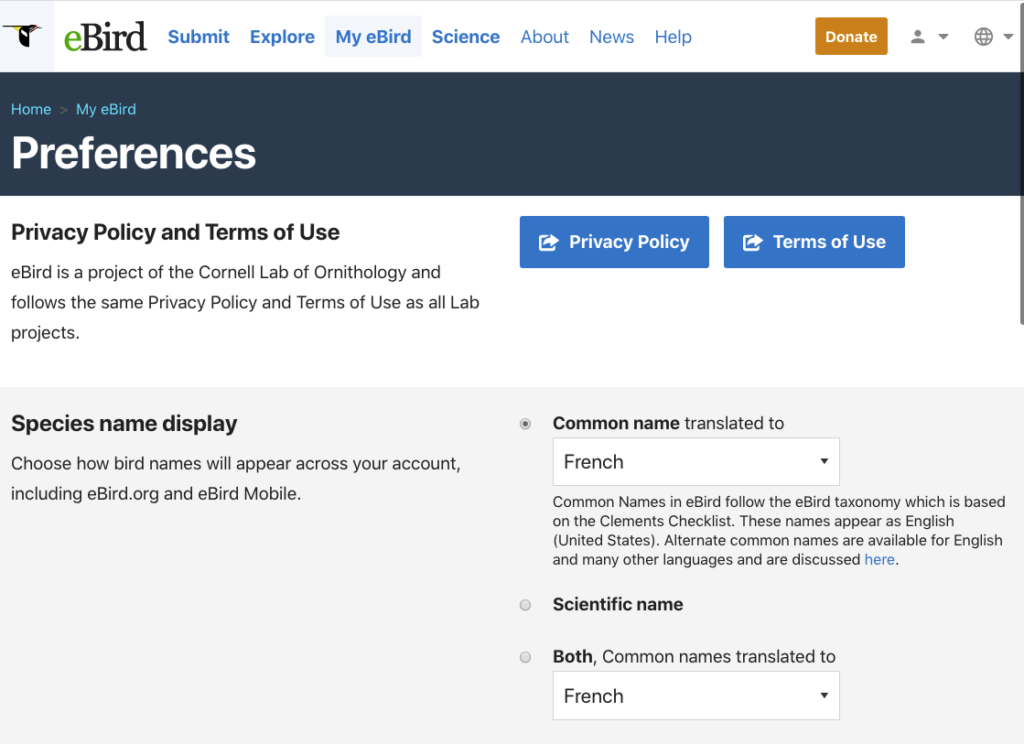 Then navigate back to Birds of the World. There is no 'one click' option to get back to BOW from eBird preferences at the moment, so just put the URL in the address bar.
Now you can see as well as search for common names. For example:
Species search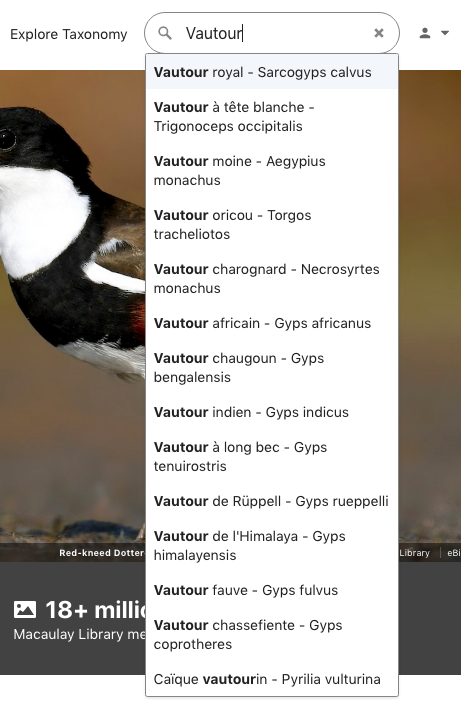 Common Name Display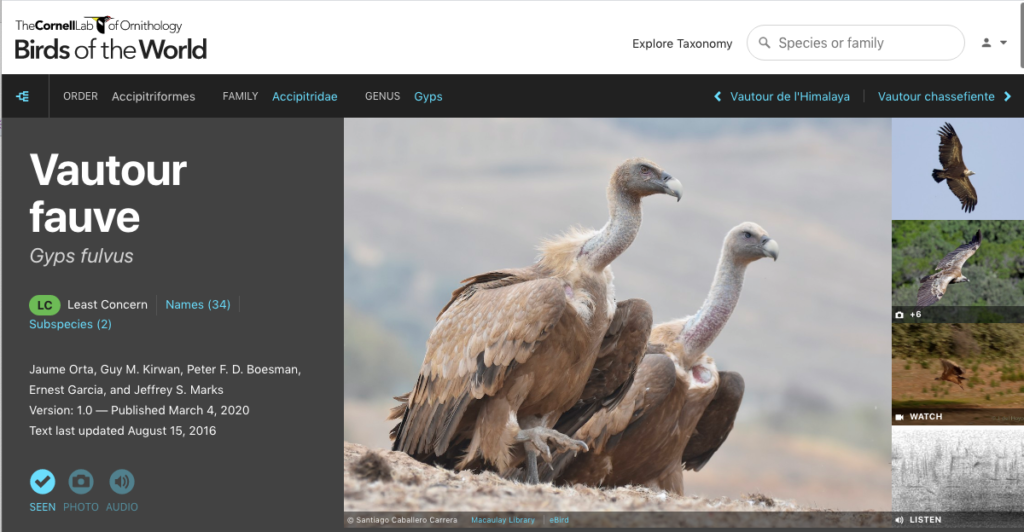 Taxonomy Explorer

When common name preferences are set but translations are incomplete (meaning not all 10,000+ species have translations), English common names are displayed by default. There are some places in BOW where the species common name is not yet translated, such as in the media, maps, and main body of the text. We will be working in the future to make the display of common name preferences function more broadly across the site.
Want to work with us on a set of translations? If your language is missing from this list, contact us.